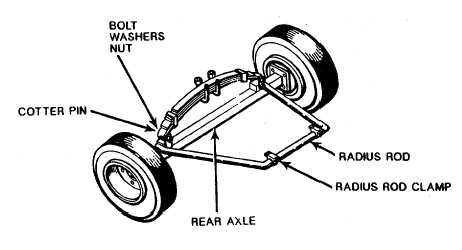 TM 1-4920-446-13 & P
3-22.
Axles and steering assembly - Replace (Contd)
3-22
Rear Axle
1.
Chock wheels.
2.
Jack up trailer, install jackstands so tires have a 1/2 inch clearance from the ground.
3.
Install two small jacks under rear axle.
4.
Disconnect two short brake rods from the brake lever at each side.
5.
Remove cotter pins from bolts connecting axle to the spring.
6.
Remove nuts and bolts connecting the axle to the spring.
7.
While supporting the rear radius rod, disconnect the two radius rod clamps.
8.
Lower the axle with the small jacks.
9.
Remove small jacks.
10.  Pull the rear axle out the rear of the test stand.
INSTALLATION:
Rear Axle:
1.
Position rear axle below elevated test stand.
2.
Place two small jacks under axle.
GO TO NEXT PAGE
3-23