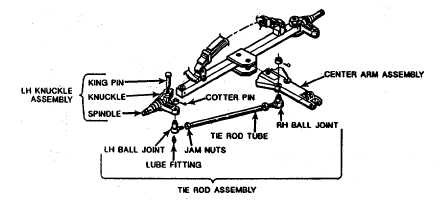 TM 1-4920-446-13 & P
3-27.
Tie rod and ends - Replace
3-27
This task covers:  Removal and Installation
INITIAL SETUP
Tools:
Tool Kit, Aircraft Mechanics General, NSN  5180-00-323-4692
Parts
Required:
Cotter Pins
Personnel
Required:
MOS 67
REMOVAL:
1.
Straighten out and remove two cotter pins located at both ends of the tie rod assembly.
2.
Unthread the two slotted hex nuts securing the tie rod assembly to the axle and to the tongue assembly. Remove tie
rod.
3.
Loosen jam nuts.
4.
Remove ball joints if required.
INSTALLATION:
1.
Install ball joint into the tie rods.
2.
Tighten jam nuts.
3.
Position one end of the tie rod assembly through hole in axle knuckle and the other end through hole in tongue as-
sembly.
4.
Install tie rod assembly from the bottom.
5.
Install two slotted hex nuts securing the tie rod to the axle knuckle and the tongue assembly.   Thread the nuts on the
bolts far enough to install new cotter pins through slots in nuts into the hole in the bolts.
6.
Bend the open end of the cotter pins to secure them in place.
END OF TASK
3-29