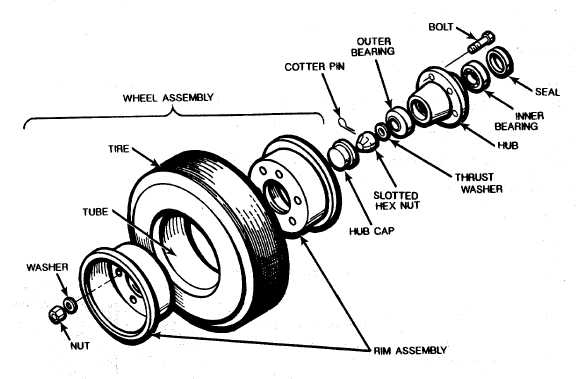 TM 1-4920-446-13 & P
3-36.
Hub and bearings - Replace (Contd)
3-36
INSTALLATION:
1.
Drive inner bearing cup and outer bearing cup into hub until they bottom out in hub.
2.
Insert  inner  bearing  cone  into  hub  and  install  new  grease  seal  into  hub  making  certain  that  seal  does  not  become
cocked in the hub.
3.
Slide wheel assembly with bearing cups, inner bearing cone and grease seal installed, on axle shaft or axle and king
pin pivot assembly.
4.
Install outer bearing cone, thrust washer, and slotted hex nut on axle shaft.
5
Tighten slotted hex nut while rotating the tire until a noticeable drag is felt.
Back off the nut about 1/8 turn to the nearest cotter pin slot.
6.
Install cotter pin and bend open end to keep it in place.
7.
Install hub cap.
END OF TASK
3-41