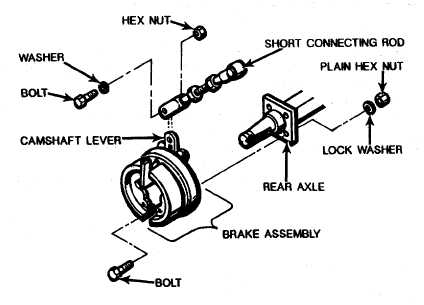 TM 1-4920-446-13&P
3-38.
Brake assembly - Service
3-38
This task covers:
Service
INITIAL SETUP
Material
Required:
Lubricating Oil VV-L-800
Personnel
Required:
MOS 67
Equipment
Condition:
Para.  3-36 Hub and bearing removed.    (Note:  Remove hub, bearings and wheel as a single assembly).
SERVICE:
1.
Apply lubricating oil to hand brake as indicated in Figure 3-1 and Table 3-5.
2.
Clean grease, oil, or other contaminants from brake drum and shoe assembly.
3.
Replace loose, missing, damaged or worn parts as indicated in para.  3-40.
END OF TASK
3-44