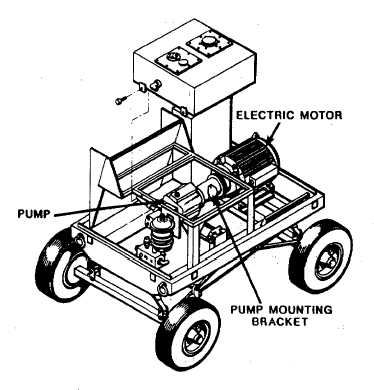 TM 1-4920-446-13 & P
3-51.
Electric motor - Replace (Contd)
3-51
Use two legged sling or other suitable lifting device which will prevent the motor and
pump from shifting when motor bolts are removed.
5.
Attach  suitable  lifting  device  to  motor  lift  brackets,  take  up  slack  then  remove  four  mounting  nuts,  washers  and
bolts; lift motor and pump assembly out of test stand, set assembly on work bench.
REPLACEMENT - ELECTRIC MOTOR
1.
Remove four bolts attaching motor to pump mounting bracket and remove motor.
2.
Remove rubber spider from inside bracket, then flexible coupling half, and key from motor shaft.
3.
Position replacement motor on workbench.
4.
Insert key in motor shaft keyway and install flexible coupling half on motor shaft.   Do not tighten coupling half on
motor shaft at this time.
GO TO NEXT PAGE
3-60