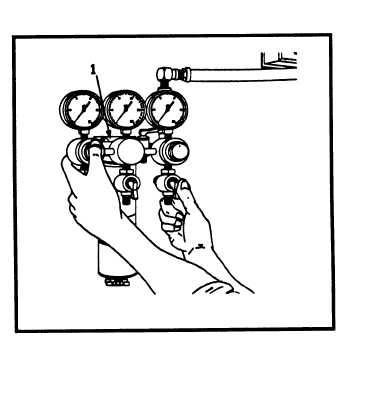 TM   1-4920-448-13&P
3-11.  Water/Oil  Separator  Mounting  -  Inspect
3-11
This tasks covers: Inspection of water/oil separator mounting
INITIAL  SETUP
Tools:
Basic  Issue  Items  (BII)  -  App  C
Wrench, Torque 0-600 inch pounds, NSN 5120-00-288-8865
Personnel
Required:
68H Aircraft Repairer
Equipment
Condition:
Air supply off and air bled
High pressure compressed air against skin or near eye can cause injury
or blindness. Do not direct compressed air against skin or near eyes.
Always  wear  safety  goggles  when  working  with  compressed  air.  En-
sure compressed air supply is disconnected and air bled before at-
tempting  this  task.
INSPECTION
1.  Check  water/oil  separator  bracket(1)  for  security.
GO TO NEXT PAGE
3-9