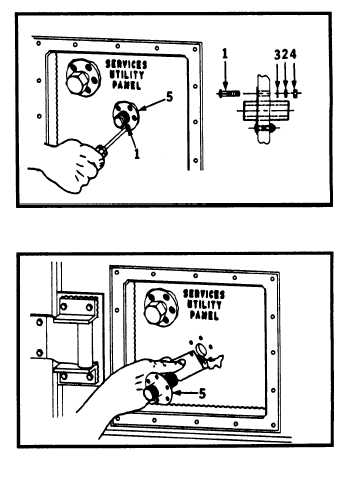 TM 1-4920-448-13&P
3-17. Fixtures - Air Feed Thru Connector- Replace
3-17
This tasks covers: Replacement of connector
INITIAL  SETUP
Tools:
Basic Issue Items (BII) - App C
Material:
Air Feed thru connector - App F
Adhesive,  NSN  8040-00-877-9872-  App  E
Personnel
Required:
68H Aircraft Repairer and Helper
Equipment
Condition:
All fittings and adapters removed
REPLACE   CONNECTOR
1.  Remove  six  screws(l),  lockwashers  (2),  washers(3)
and nuts (4) securing connector (5).
2. Remove connector (5) from wall and scrape off old
adhesive.
GO TO NEXT PAGE
3 - 20
—