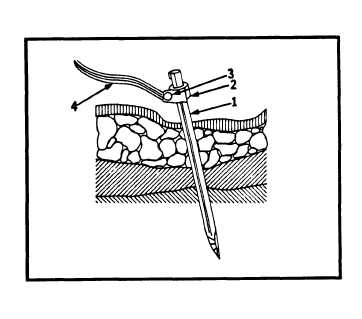 TM  1-4920-448-13&P
3-20. Ground Rod/Strap - Inspect
3-20
This  tasks  covers:  Inspection  of  ground  rod  and  strap
INITIAL  SETUP
Tools:
Tool Kit, Electrical Repairer, Army Aircraft, NSN 5180-00-323-4915
Multimeter, NSN 6625-01-139-2512
Personnel
Required:
68F Aircraft Electrician
Reference
Information:
TC  11-6
INSPECTION
HIGH  VOLTAGE  exists  in  the  electrical  system  of  this  shop.  All
electrical  inspections,  repairs  or  replacements  shall  be  performed  with
the power OFF and only by qualified electricians. Serious shock
hazards exist which could result in senous injury or death to personnel.
1.  Check  ground  rod.
a.
b.
c.
d
Ensure ground rod (1) is firmly driven into ground
Ensure that clamp (2) and screw (3) are  securely
fastened
Ensure there is no sign of oxidation
(2)  or  screw(3).
around  Clamp
Ensure ground strap (4) is not frayed or broken
GO TO NEXT PAGE
3-25