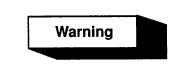 TM 1-4920-448-13&P
3-22. Special Brackets and Fabricated Components, Book Rack - Repair
3-22
This  tasks  covers:
Repair of book rack
INITIAL  SETUP
Tools:
Basic Issue Items (BII) - App C
Wrench, Torque 0-600 inch pounds, NSN 5120-00-288-8865
Shop  Set,  Machine,  NSN  4920-00-405-929
Shop  Set,  Welding,  NSN  4920-00-163-5093
Material:
Rod, welding - App E
Primer  coating,  NSN  8010-00-297-0593-  App  E
Enamel,  white,  NSN  8010-00-159-4520-  App  E
Enamel, gray, NSN 8010-00-852-9034 -App E
Personnel
Required:
68H  Aircraft  Repairer
Reference
Information:
TM  55-1500-204-25/1
MIL-W-8604A
TM 43-0139
NOTE
The repair task for the book rack is presented as a guide for repair tasks for
the  remainder  of  the  fabricated  components.
REPAIR
Extreme care must be taken when performing all types of welding opera-
tions. Serious health and fire hazards exist. Harmful light rays can cause
eye injury or blindness. Protective face masks and goggles must be used
as well as other special clothing to reduce risks. Poisonous fumes, burns,
electric  shock,  fire  and  explosion  hazards  are  some  of  the  additional  possi-
bilities of injury associated with welding operations. It is essential that all safe
practices  be  strictly  observed.
GO  TO  NEXT  PAGE
3-30   Change   1