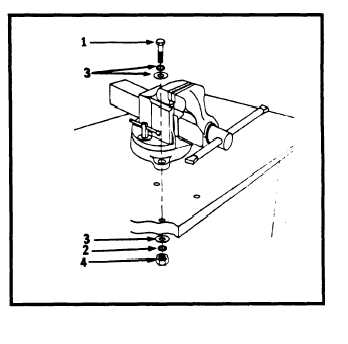 TM 1-4920-448-13&P
3-25.  Fixed  Equipment/Components  -  Removai/installation
3-25
This tasks covers: Removal/Installation of fixed equipment/components
INITIAL  SETUP
Tools
Shop Set, Tool Crib, NSN 4920-00-472-4183
Personnel
Required:
68H Aircraft Repairer
REMOVAL/INSTALLATION
1.  REMOVE/INSTALL  FIXED  EQUIPMENT.
NOTE
Permanently  installed  equipment  should  not  ordinarily  be  removed  or
relocated. However, in the event that it becomes necessary to remove,
reinstall or replace fixed equipment within the shelter, care must be
taken to remove all bolts, washers and nuts and save them for reuse.
a.
b.
c.
Remove  all  bolts  (1),  lockwashers  (2),  washers  (3)
and  nuts  (4)  from  shop  equipment.  Remove  equip
ment.
Install  new  or  repaired  equipment  If  new  equip
ment  has  different  mounting  brackets,  remount
equipment  as  follows:
1.
2.
3.
Mark new mounting location on bench top.
Drill  holes.
Align  shop  equipment.
Install bolts (1), lockwashers (2) and washers (3)
and  nuts  (4).
GO TO NEXT PAGE
3-36