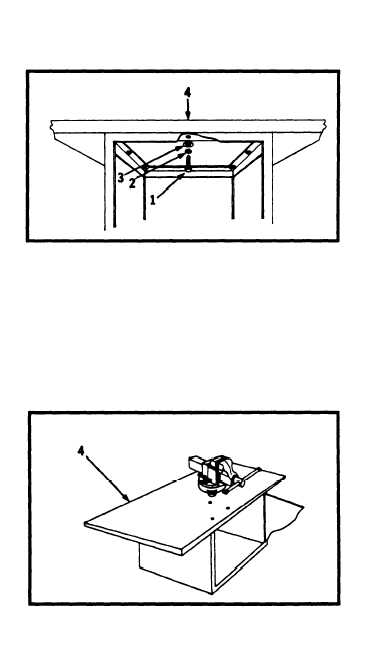 TM   1-4920-448-13&P
3-25.  Fixed  Equipment/Components  -  Removal/installation  (Cont)
3-25
2.  REMOVE/INSTALL  BENCH  TOP.
a.
b.
c.
d.
e.
f.
NOTE
Permanently  installed  bench  tops  should  not  ordinarily  be  removed  or
relocated.  However,  in  the  event  that  it  becomes  necessary  to  remove,
reinstall or replace them within the shelter, care must be taken to
remove  all  bolts,  washers  and  nuts  and  save  them  for  reuse.  Two  types
of bench tops are installed throughout the shop sets: 1) 30 inch width;
2)60 inch width. These tops together with open bench legs are at-
tached  in  several  configurations  to  the  cabinets  in  the  shop  sets.
Remove all shop equipment from bench top IAW
Step  1.a.
Remove  all  lag  bolts  (1),  lockwashers  (2)  and
washers (3) attaching bench top to cabinet
Remove bench top (4).
If new bench top (4) is to be installed, proceed as
follows,  otherwise  proceed  to  Step  e.
1) Obtain all mounting hole locations and dimen-
sions  from  old  bench  top  (4).
2) Mark new bench top (4) for drilling using loca-
tions and dimensions obtained in Step 2.d.1.
3)  Drill  holes.
Align bench top (4) on cabinet and install lagbolts
(1), lockwashers (2) and washers (3).
Align  shop  equipment  over  mounting  holes  and
install fastening hardware.
GO TO NEXT PAGE
3-37