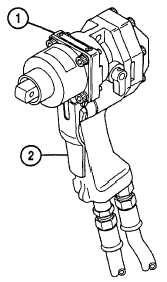 TM 9-5130-338-12&P
LOCATION
ITEM TO
NOT FULLY
ITEM
CHECK/
MISSION
NO.
INTERVAL
SERVICE
PROCEDURE
CAPABLE IF:
Section III.  OPERATION UNDER USUAL CONDITIONS
2-5.  OPERATING PROCEDURES
CAUTION
•
Damage to object being tightened could occur if flow rate is not adjusted properly
prior to operation.
•
Do not operate hydraulic impact wrench with flow higher than 5.0 gallons per minute
(gpm) (18.9 liters per minute [gpm] ).  Excessive speeds may damage hydraulic impact
wrench internally.
•
To prevent contaminants from entering hydraulic impact wrench and causing
equipment damage, quick disconnect plugs must be installed when hydraulic impact
wrench is not in use.
NOTE
•
For specific system operation, refer to applicable vehicle operator's manual.
•
Hydraulic impact wrench must be set for proper flow and impacting time.  As pump
speed increases, amount of fluid delivered to hydraulic impact wrench increases,
causing motor to turn faster and deliver higher impact loads to object being turned.  
Adjust flow to generate an impact force to turn object to, but not beyond, its required
torque limit.
2-5