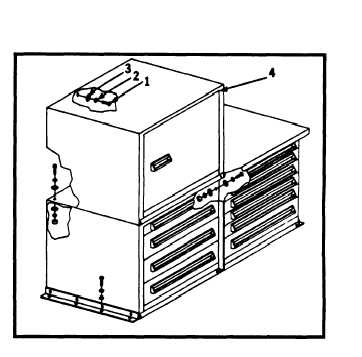 TM 1-4920-448-13&P
3-25.  Fixed  Equipment/Components  -  Removal/installation  (Cont)
3-25
3.   REMOVE/INSTALL   CABINETS.
NOTE
Permanently  installed  cabinets  should  not  ordinarily  be  removed  or  relo-
cated.  However,  in  the  event  that  it  becomes  necessary  to  remove,
reinstall or replace cabinets within the shelter, care must be taken to
remove  all  bolts,  Iockwashers,  washers  and  nuts  and  save  them  for
reuse.  Cabinets  are  bolted  to  the  floor,  wall,  and  adjacent  cabinets.
Four  cabinet  styles  are  installed  throughout  the  shop  sets  and  may  be
complexed in various configurations. All mounting holes are universal
and  cabinets  may  be  substituted  for  others  without  special  mounting
considerations.
a. Remove fixed equipment and bench tops as re-
quired.
b.  Remove  all  bolts  (1),  lockwashers  (2)  and  washers
(3) from cabinets. Remove cabinets (4).
c.  Reposition  cabinets  (4).
d.  Install  bolts(1),  lockwashers  (2)  and  washers  (3).
END OF TASK
3-38