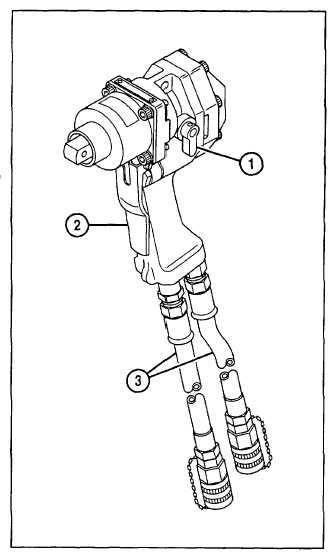 TM 9-5130-338-12&P
2-5.  OPERATING PROCEDURES-Continued.
a.
Check hydraulic lines from power source to hydraulic impact wrench.
b.
Check    vehicle    hydraulic    reservoir.        Fill    if    necessary    in    accordance    with    applicable    vehicle    Technical
Manual/Lubrication Order.
c.
Start power supply to pump and allow power unit to warm up.
CAUTION
Ensure  directional  control  is  set  to  clockwise  or  counterclockwise  limit.    Failure  to  do  so  will
restrict oil flow and cause unnecessary strain on hydraulic supply equipment.
d.
Set directional control handle (1) for either
clockwise or counterclockwise position.
WARNING
To  prevent  injury  to  personnel,  do
not operate hydraulic impact wrench
with trigger removed.
NOTE
Unless resistive force of object being
turned  is  greater  than  50  pound-feet
(lb-ft)   (67.8   Newton-meters   [Nom]),
impact   feature   of   wrench   will   not
function
and
hydraulic
impact
wrench    will    rotate    at    continuous
speed.
e

.
Press and hold trigger (2) for operation.
f.
Release trigger (2) to stop operation.
g.
Bleed  small  amount  of  fluid  from  hoses
(3)   prior   to   storing   to   prevent   pressure
build up in hoses.
2-6